Ilia in Mozart's Idomeneo at Bayerische Staatsoper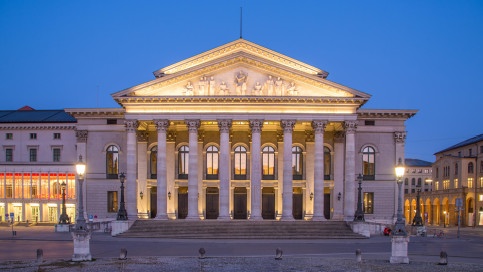 Composer Wolfgang Amadeus Mozart. Libretto by Giambattista Varesco.
Dramma per musica in three acts (1781)
In Italian. With German and English surtitles.
Conductor: Christopher Moulds
Production: Antú Romero Nunes
Choreography: Dustin Klein
Set Design: Phyllida Barlow
Costume Design: Victoria Behr
Lighting: Michael Bauer
Set Design Assistant: Anna Schöttl
Dramaturgy: Rainer Karlitschek
Idomeneo: Pavol Breslik
Idamante: Emily Sierra
Ilia: Emily Pogorelc
Elettra: Hanna-Elisabeth Müller
Arbace: Jonas Hacker
Oberpriester Poseidons: Liam Bonthrone
Die Stimme (Orakel): Alexander Köpeczi
Bayerisches Staatsorchester
Chorus of the Bayerische Staatsoper
Mozart's opera masterpiece "Idomeneo," which premiered in Munich on January 29, 1781, will grace the stage of Bayerische Staatsoper from September 27th to October 2nd. Directed by Antú Romero Nunes and conducted by Christopher Moulds, this production promises a captivating rendition of the timeless tale. The story follows King Idomeneo, who, after a shipwreck, vows to sacrifice the first person he meets, unknowingly his own son, Idamante. Love, duty, and fate intertwine in this ancient Cretan setting, creating a powerful and emotional narrative.
Antú Romero Nunes' innovative direction blends traditional and contemporary elements, breathing new life into the opera. Christopher Moulds' musical expertise brings out the beauty and complexity of Mozart's score, originally composed for the Munich premiere. The combination of Nunes' creative storytelling and Moulds' meticulous attention to detail ensures an extraordinary production. Notably, soprano Emily Pogorelc makes her role debut as Ilia, delivering a compelling portrayal of the character torn between love and loyalty. Pogorelc's rich, expressive voice and captivating stage presence promise to bring a fresh and unforgettable interpretation to the role.
Don't miss this extraordinary production of "Idomeneo," as Mozart's timeless masterpiece unfolds with visual and emotional richness at the renowned Bayerische Staatsoper. Immerse yourself in the captivating world of love, sacrifice, and the struggle for power from September 27th to October 2nd.