Sœur Constance in Poulenc's Dialogues of the Carmélites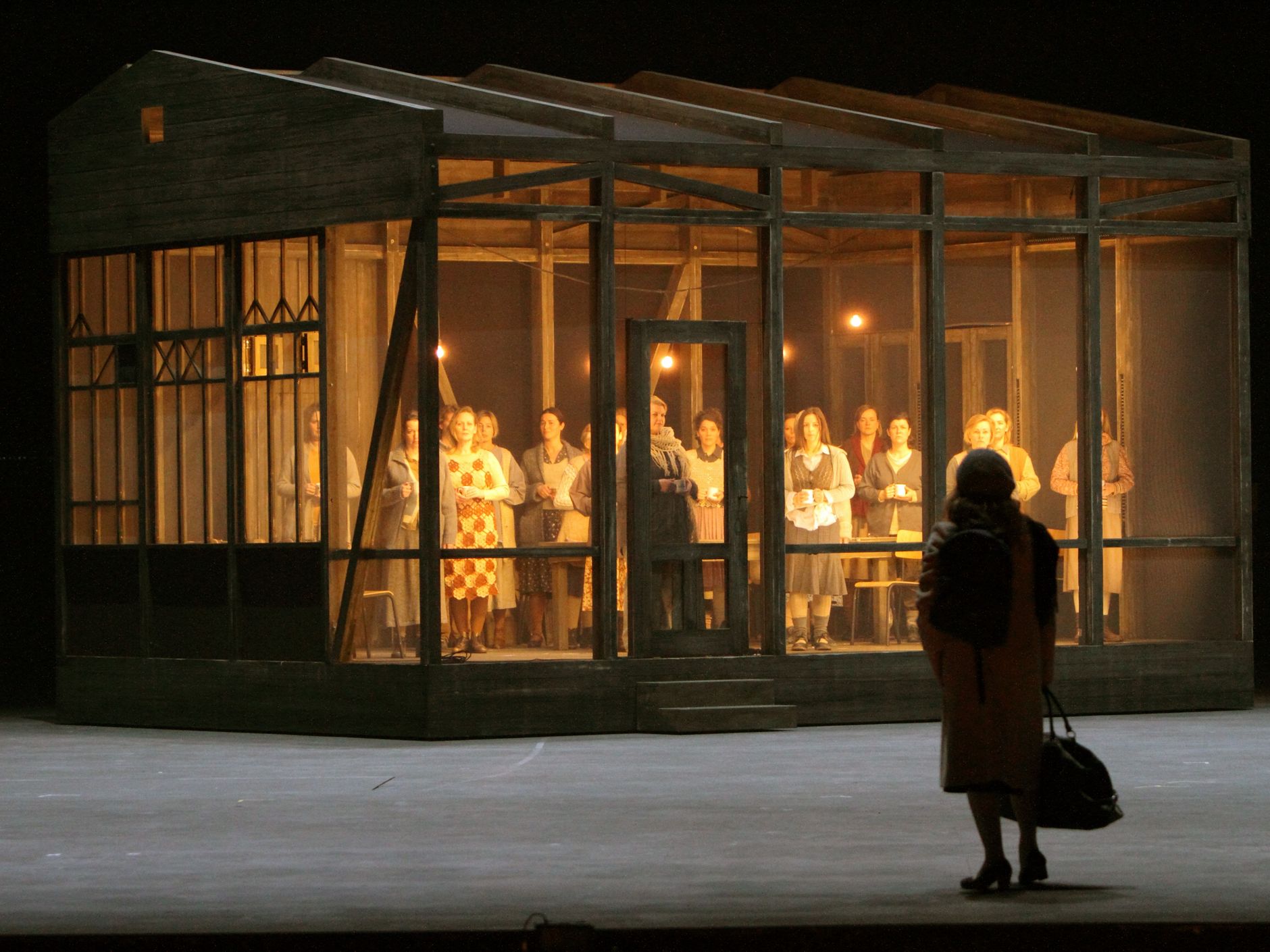 DIALOGUES DES CARMÉLITES
Oper in drei Akten – 1957
Komponist/Composer Francis Poulenc
Libretto vom Komponisten nach dem gleichnamigen Drama von Georges Bernanos, basierend auf der Novelle ''Die Letzte am Schafott'' von Gertrud von Le Fort.
In französischer Sprache mit deutschen Übertiteln/In French with German subtitles
Musikalische Leitung/Conductor: Johannes Debus
Inszenierung und Bühne/Director and Stage Designer: Dmitri Tcherniakov
Kostüme/Costumes: Elena Zaytseva
Licht/Light: Gleb Filshtinsky
Dramaturgie: Andrea Schönhofer
Chor/Chorus Director: Stellario Fagone
Rollen/Cast:
Marquis de la Force: Jochen Schmeckenbecher
Blanche de la Force: Ermonela Jaho
Chevalier de la Force: Evan LeRoy Johnson
Madame de Croissy: Anna Caterina Antonacci
Madame Lidoine: Véronique Gens
Mère Marie: Stéphanie d'Oustrac
Sœur Constance: Emily Pogorelc
Mère Jeanne: Daria Proszek
Soeur Mathilde: Emily Sierra
L'aumônier: Kevin Conners
1er commissaire: Aleksey Kursanov
2ème commissaire: Andrew Hamilton
L'officier: Christian Rieger
Le geôlier: Sean Michael Plumb
Thierry: Gabriel Rollinson
Bayerisches Staatsorchester
Bayerischer Staatsopernchor
Dialogues of the Carmelites is a Francis Poulenc opera that takes place during the French Revolution and focuses on a group of Carmelite nuns. The opera will be performed at Bayerische Staatsoper, with Johannes Debus conducting and Emily Pogorelc making her role debut as Sœur Constance. Leading the cast is the renowned soprano Ermonela Jaho as Blanche de la Force. The themes of the opera include faith, sacrifice, and standing up for one's beliefs, and the performance will feature daring direction from Dmitri Tcherniakov.